Membership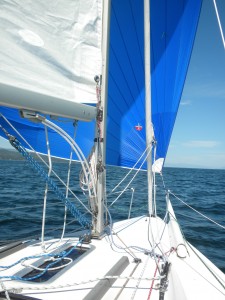 We readily welcome anyone interested in the sport of sailing to apply to become a member. Please enjoy our website and learn more about us.
If you and your family are interested in joining the club we welcome you to stop by for a visit and look around. Everyone is very friendly at the club so stop the first person you see and tell them you are interested in joining the club. They will help you find the information you are looking for.
Membership runs from April 1 through March 31 of the following year.
We hope to see you soon!
How To Join The Club
If you are interested in becoming a member, here's what you need to do. Click here to print out the application form. Fill out the personal information along with your sailboat information (if you currently own a sailboat), and then tell us about yourself and your sailing and sailboat racing experience.  You will need two sponsors who are active members of NFYC to submit a written recommendation.  You will also need proof of age if you are under age 45.
Don't know any members?  Visit our club at the end of the road in Somers, Montana and get to know us.  We'll be happy to show you around.  People are always looking for crew for racing.  This is a great way to get to know people and find out if our club is right for you.
Mail the completed application along with the required Initiation Fee (check will not be cashed until membership is confirmed) to:
NFYC
PO Box 208
Somers, MT 59932
Applications will be considered at the monthly board of directors meeting in the months of May, August, and November. It is important to note that before the board can consider your application, it must be complete with the 2 letters from your sponsors and a check for your initiation fee.   At least one of the sponsors MUST be present at the meeting.
North Flathead Yacht Club is limited to under it's By-Laws to 140 members at this time. Preference is given to applicants whose goals are most closely aligned with the Purpose and Goals of the Club.
Thank you for your interest!
CLICK HERE FOR APPLICATION FORM 
Initiation Fees:  (couples age will be determined by oldest member)
ages 18 to 23……….$250
ages 24 to 27……….$400
ages 28 to 30……….$550
ages 31 to 33……….$700
ages 34 to 36……….$1000
ages 37 to 40……….$1500
ages 41 to 44……….$2000
ages 45 and up…….$2500  **
** can be paid through a payment plan of $1000 down, $500 six months later,
$500 twelve months later, and  $750 eighteen months later (10% surcharge for bookkeeping)