Home
---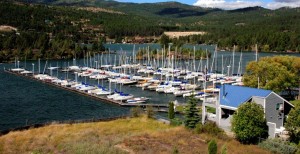 About NFYC
Nestled in a quiet cove at the north end of scenic Flathead Lake, in Somers Montana. North Flathead Yacht Club was formed in 1975, and has grown into the premier sailing venue in Montana. With many active fleets including 4 PHRF fleets and several One design fleets. NFYC has an active Junior sailing program in both Opti's and Lasers. Currently we are limited to by size and facilities to 140 active family memberships, NFYC provides an excellent opportunity for sailors to experience competitive racing in one of the most scenic venues in the world.
North Flathead Yacht Club is a private sailing club whose facilities are open to members only. We do not rent boats, lease slips, or allow launching to non-members. See our membership page if you wish to become a member.
---
Montana Cup
Get ready! The 2019 Montana cup is Aug 3-4, 2019. Check out the Notice of Race for full details.
In addition to two days of great racing, there will be offshore entertainment including live music and dinner on Saturday, lawn games, stories by the bonfire, and breakfast both days.
New this year is a Cruising Class! For those of you who are interested in racing but would like to tone it down, we will be offering a cruising class with one long-distance race per day.
We are now accepting credit card payments for Montana Cub registration online through Eventbrite. Please note, you will still need to complete and submit the entry form found at the bottom of the NOR.
https://www.eventbrite.com/e/2019-montana-cup-regatta-tickets-65281280066
---
Become a member
Learn about current membership opportunities or fill out an application to join the club.
---
Lake Level
Click here to check the current lake levels from the USGS.