---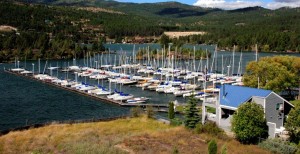 About NFYC
Nestled in a quiet cove at the north end of scenic Flathead Lake, in Somers Montana. North Flathead Yacht Club was formed in 1975, and has grown into the premier sailing venue in Montana. With many active fleets including 4 PHRF fleets and several One design fleets. NFYC has an active Junior sailing program in both Opti's and Lasers. Currently we are limited to by size and facilities to 140 active family memberships, NFYC provides an excellent opportunity for sailors to experience competitive racing in one of the most scenic venues in the world.
North Flathead Yacht Club is a private sailing club whose facilities are open to members only. We do not rent boats, lease slips, or allow launching to non-members. See our membership page if you wish to become a member.
---
2021 MT Cup Regatta
Mark your calendars: the 2021 Montana Cup Regatta will be held August 7 and 8. The NOR will be posted on the Racing Page under NOR. Download it from there and send in your entry ASAP.
---
Become a member
Learn about current membership opportunities or fill out an application to join the club.
---
Lake Level
Click here to check the current lake levels from the USGS.